Pond Plants
In the centre of our courtyard are three plant containers. These contain marginal plants, deep water aquatics, oxygenators and floating plants. These are restocked on a fortnightly basis in the growing season from the end of March until early September. Floating plants, are only available from mid May until early September.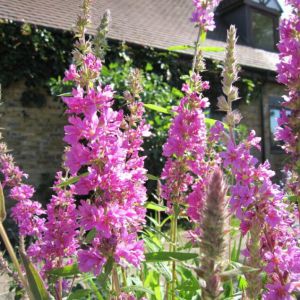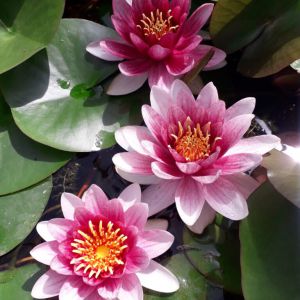 Water Lilies
All our Water lilies are sold pre-packed with soil and topped with pea gravel in three litre pots. They are supplied to us direct from our award winning grower who we have a close relationship with and are of excellent quality. Water lilies grow from March to September and are only available during these months. Below of a list of species that are available to order, some but not all of these are held in stock.
White
Alba, Albida, Richardsoni, Gladstoniana, Albatross, Candida, Gonnere White, Pygmea alba.
All white lilies are £24.99ea, except pygmy and Gonnere White.
Pink
Amabilis, Firecrest, Marliacea Carnea, Marliacea Rosea, Mrs Richmond, Rose Arey.
All Pink lilies are £24.99ea.
Yellow
Odorata Sulphurea, Marlicea Chromatella, Morei, Sunrise, Pygmea Helvola.
All Yellow lilies are £24.99ea, except pygmy.
Red
Attraction, Frobeli, Escarboucle, James Brydon, Charles de Meurville, Pygmea Rubra.
All Red lilies are £24.99ea, except pygmy.
Marginal Plants
We have a wide range of marginal, primarily in 1 litre pots, and some larger specimen plants in 5 litre of contour baskets. We also stock the ever popular Water Hawthorn which is great for deeper areas.
Oxygenating Plants
We have usually have several type oxgenating plant in bunches and pots,.
Call to 01733 312142, or
 email 
to check availability of specific lily species or other pond plants
before travelling. Currently pond plants are only available in store.