Our marine fish system consists of 50 sales and 12 quarantine aquariums and has a total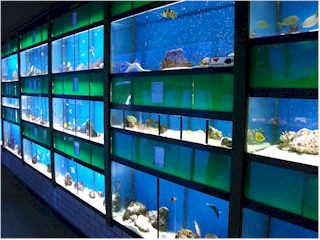 capacity of over 3500 gallons. At any one time we have between 100 & 150 different species in stock. See below for our current stock list. This generally includes a huge range of species from hardy fish like Clowns to the more delicate Angels & Butterfly's, and we are always on the look out for 'something different' that you may not see in other shops. Although we do not stock species that we feel are not suited to captivity, either because they grow too large, or have a poor survival rate. Most marine fish are hand picked from TMC by ourselves and then rested in our on site quarantine area for at least 7 days prior to sale. They are all fed three times a day on Gamma frozen foods and Vitalis marine flake, by our full time staff, many of which keep marines at home. We are confident enough of the quality of our marine fish to offer a 7 day written guarantee.
All our marine fish sales aquariums are illuminated by TMC Aquabeam Ultima 600's.
Only fish currently in stock are shown, please contact us prior to travelling.
Stock levels change quickly, but are updated daily around 6:15pm.