Fancy Goldfish
We have 20 large aquariums for fancy goldfish and other fish that do well in unheated aquariums. We try to keep a wide range of fancy Goldfish, Moors, Orandas, Lionheads, etc, most of these are around 5cm, with larger specimens and more unusual varieties available occasionally. We also have small range of 
subtropical/temperate species
, these are fish that sometimes sold as tropical fish, but actually prefer cooler conditions, e.g. White Cloud Mountain Minnows. These type of fish are more suited to small aquariums than Goldfish are, which in our opinion require an aquarium in excess of 20 gallons (100 litres) for long term care, as they can grow to 20cm.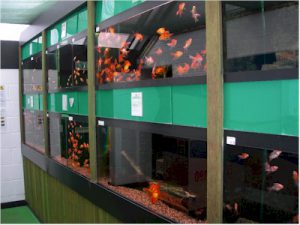 Part of our coldwater fish sales area
Sizes are approximate.
 Please telephone 01733 312142 to check stock availability & sizes before travelling.
All livestock is for collection from our premises only.
The species below were in stock on 29/04/2019
 Species
 Size in cm

Assorted Oranda (Red, Chocolate)
Black Moor
Blue Oranda
Canary Goldfish

Calico Fantail

Goldfish
Pom Pom Lionhead

Ranchu/Lionhead
Red Cap Oranda

Red Fantail

Red & White Fantail

Sarasa Comet

Shubunkin

Buenos Aries Tetra

Rainbow Minnow
Rosy Bitterling

Variatus Platy
White Cloud Mountain Minnow

10
5
5
5
5
5
5
5
5
5
5/8
5
SOLD OUT
–
4
3
4
3
3
Coldwater fish are not currently available to buy online, and must be collected from our retail premises in Peterborough.